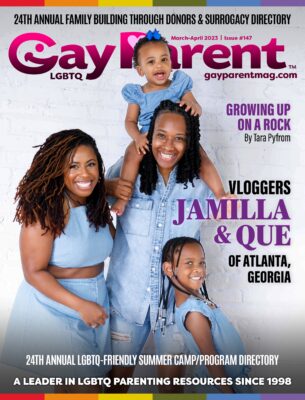 Our Current Digital Issue Free to All (May take a few seconds to load)
Click here to get your free copy
---

Our Current Gay Parent Magazine-NY Annual Free to All
Click here to get your free copy
Mailing List
Join our mailing list for special announcements!
We respect your privacy.
Gay Parent Magazine
Sponsored Content:
The IDEAL School of Manhattan–A Small School That's Big On Inclusion
The IDEAL School of Manhattan is New York's only K-12+ independent inclusion school. Our mission is to affirm and accept the full identities of all people while inspiring academic excellence, creative leadership, and a desire to build a more just and equitable world.
The school's core principles are built into its name: Inclusion, Diversity, Excellence, Acceptance, and Leadership. Every aspect of the IDEAL experience–instruction, assessment, program, enrichment–reflects a research-based commitment to inclusion education as a means for academic excellence.
Shu Ren: Chinese and English Immersion Program
"One of our co-founders originally saw a need as a young mother in the Bay Area, back in 2008," said Deron Marvin, Co-Head of Shu Ren. "As a daughter of a Kiwi father and Chinese mother, Dr. Jie Moore wanted her daughter to grow, learn, and thrive in an international community filled with a vibrant culture, traditions, and experiences. When she couldn't find a school that provided this approach, she founded one – utilizing expansive and inclusive education programs to embrace and support families from unique cultural backgrounds."
Students Thrive at Green Ivy International Schools
Green Ivy International Schools provide future-facing programs that prioritize sustainability, innovation, and world citizenship across our curriculum. Through multilingualism (Spanish and Mandarin) and cultural agility, Green Ivy places a great emphasis on connecting academics to real world applications that can enhance the environment and the lives of others. Because our schools are located in the original New York City (a block from Wall Street, a short walk from the Hudson River, Brooklyn Bridge, Chinatown), we have the vast resources of New York City and its outer boroughs filled with culture, language, arts, universities, international organizations, museums, and institutions willing to open their doors to our students.
Let your curiosity run wild at WCS Summer Camp!
Unforgettable summer adventures start here! Wildlife Conservation Society (WCS) day camps offer something for young explorers of all ages. Campers explore nature, learn about conservation, and get up close to animals—all right here in New York City. WCS offers summer camp programming at all five parks: Bronx Zoo, Central Park Zoo, Queens Zoo, Prospect Park Zoo, and New York Aquarium.
Trail Blazers
Did you know that Trail Blazers is one of the oldest summer camp programs in the United States and the first to focus on environmental education?
Wayfinder Experience
For 20 years the Wayfinder Experience has been providing high quality summer camp experiences to kids and teens around the Hudson Valley. Our week-long camps give campers the opportunity for self-exploration in a fun and inclusive environment through the use of our Live Action Role Playing programming. We have been named Best Camp by Hudson Valley Magazine 6 years running.
Read more>
Supportive, safe, fun, and nurturing, The Harker School
The Harker School is a kindergarten-grade 12 private school in Silicon Valley that has earned international recognition for its top academics, quality teachers and student achievements. Founded in 1893 and educating more than 1,975 students, Harker is the largest independent school of its kind in California, serving families of elementary, middle and high school-aged children, with each division on its own San Jose campus. Harker blends strong college-prep academics with rich offerings in STEM, athletics and the arts.
Read more>
Explore Summer Reading with these Five Top Picks!
We know summertime can provide opportunities for kids to accelerate reading and experience the social-emotional impact of good literature and stories. Research has shown that in a typical year, summer reading supports skill gains, and its absence leads to widening skill gaps. In addition, reading helps children discover new favorite books, explore different genres to discover what kinds of books they like to read while staying on-track for the next school year.
Getting Your Child Back to Sleep
Having a good night's sleep is vital for a child's well-being. But getting your child to sleep is not always the easiest task. With the stressors of the past almost two years, there has also been an increase in the incidence and severity of hyperactivity, insomnia, anxiety, and depression in children, especially adolescents. We recently sat down with Prabhavathi Gummalla, MD, FAAP, pediatric pulmonology, and sleep medicine specialist at Valley's Pediatric Sleep Disorders and Apnea Center to discuss how to get your child back to sleep.
Read more >
Reproductive Science Center of New Jersey
At Reproductive Science Center of New Jersey (RSCNJ), we go beyond helping infertile couples. We proudly offer LGBTQIA+ family building services. Lesbian, gay, bisexual, transgender, questioning, intersex, and asexual individuals and couples who dream of having a family can often do so with our assisted reproductive technologies.
Read more >
For Over 30 Years, Family Building Has Been Our Family Business
Cryobio is committed to getting it right when it comes to serving members of the LGBTQ+ community. This past November, we hosted Equitas Health Institute at our main offices in Columbus, Ohio. They delivered a training session to us on providing culturally humble and competent care so we can better serve the community. The knowledge we gained in one afternoon was beyond what we could have imagined. Our goal at Cryobio is and has always been, to provide members of the LGBTQ+ community with a welcoming and safe space during their journey to parenthood. This training provided insight into the harsh realities that many members of the LGBTQ+ community face on their path to becoming parents. The individuals who led our training were incredible and honest in sharing their own personal stories, as well as other stories of people who were treated unacceptably by physicians, nurses, lab techs, or receptionists when they walked through the doors of a clinical practice looking for care. The actions and behaviors in these stories were heartbreaking to hear and made us even more determined to make sure we are providing the best care to the LGBTQ+ community.
Read more >