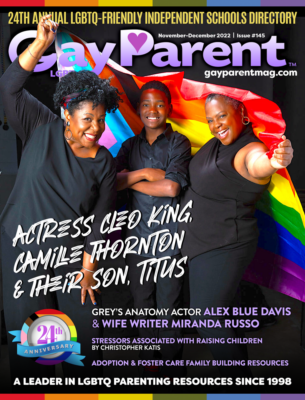 Our Current Digital Issue Free to All (May take a few seconds to load)
Click here to get your free copy
---

Our Current Gay Parent Magazine-NY Annual Free to All
Click here to get your free copy
Mailing List
Join our mailing list for special announcements!
We respect your privacy.
Gay Parent Magazine
Sponsored Content:
Cofertility Offers a New Egg Donation Experience
Building your family should be an incredible experience, centered on your family and honoring the person (egg donor) making it possible. This year, Cofertility launched a new platform aimed at doing just that.
Their unique model empowers women to take control of their own reproductive health while giving families the gift of a lifetime. This means that donors aren't doing it for the cash – they keep half the eggs retrieved for their own future use, and donate half to your family. It's a win-win.
Read more>
Supportive, safe, fun, and nurturing, The Harker School
The Harker School is a kindergarten-grade 12 private school in Silicon Valley that has earned international recognition for its top academics, quality teachers and student achievements. Founded in 1893 and educating more than 1,975 students, Harker is the largest independent school of its kind in California, serving families of elementary, middle and high school-aged children, with each division on its own San Jose campus. Harker blends strong college-prep academics with rich offerings in STEM, athletics and the arts.
Read more>
Two Dads Share Their Barker Adoption Journey
For people considering adoption, there comes that moment when the time is right to get the process started. For Jordan and Anthony, it was after they returned to the U.S. in 2016 after living in Anthony's native Belgium for a number of years.
Read more>
Center for Innovation Coming to The Bolles School
Construction is underway on The Bolles School's new Center for Innovation facility on the Bolles Upper School San Jose Campus. The 47,000-square-foot, three-story building marks the most expansive construction undertaking on the San Jose Campus property since the building now known as Bolles Hall was constructed as the San Jose Hotel in 1925.
Read more>
The École Now Serves Students from Pre-Nursery through High School!
Since the opening of its Pre-Nursery program in September 2021, The École welcomes two-year-olds to its unique French-American bilingual program. And just one year later, The École has joined forces with Léman Manhattan Preparatory School to create a new high school track!
Read more>
LOL – The Power of Laughter and How Reading Lets the Joy of Laughter Ring Loud
Is there any sound more wonderful that a child's laugh? Often when we think about children, we have a vision of fun, play, and laughter.
We all need a laugh right now, so we have compiled our favorite LOL list of books. There are read-aloud books for preschoolers and a variety of stories for readers at all levels – beginning readers to preteens. Some are goofy-silly, others witty and clever, some include gorgeous illustrations, a couple offer relatable life-lessons learned through misadventures or embarrassing moments — and ALL will make the reader laugh out loud.
Read more>
Getting Your Child Back to Sleep
Having a good night's sleep is vital for a child's well-being. But getting your child to sleep is not always the easiest task. With the stressors of the past almost two years, there has also been an increase in the incidence and severity of hyperactivity, insomnia, anxiety, and depression in children, especially adolescents. We recently sat down with Prabhavathi Gummalla, MD, FAAP, pediatric pulmonology, and sleep medicine specialist at Valley's Pediatric Sleep Disorders and Apnea Center to discuss how to get your child back to sleep.
Read more >
Reproductive Science Center of New Jersey
At Reproductive Science Center of New Jersey (RSCNJ), we go beyond helping infertile couples. We proudly offer LGBTQIA+ family building services. Lesbian, gay, bisexual, transgender, questioning, intersex, and asexual individuals and couples who dream of having a family can often do so with our assisted reproductive technologies.
Read more >
For Over 30 Years, Family Building Has Been Our Family Business
Cryobio is committed to getting it right when it comes to serving members of the LGBTQ+ community. This past November, we hosted Equitas Health Institute at our main offices in Columbus, Ohio. They delivered a training session to us on providing culturally humble and competent care so we can better serve the community. The knowledge we gained in one afternoon was beyond what we could have imagined. Our goal at Cryobio is and has always been, to provide members of the LGBTQ+ community with a welcoming and safe space during their journey to parenthood. This training provided insight into the harsh realities that many members of the LGBTQ+ community face on their path to becoming parents. The individuals who led our training were incredible and honest in sharing their own personal stories, as well as other stories of people who were treated unacceptably by physicians, nurses, lab techs, or receptionists when they walked through the doors of a clinical practice looking for care. The actions and behaviors in these stories were heartbreaking to hear and made us even more determined to make sure we are providing the best care to the LGBTQ+ community.
Read more >