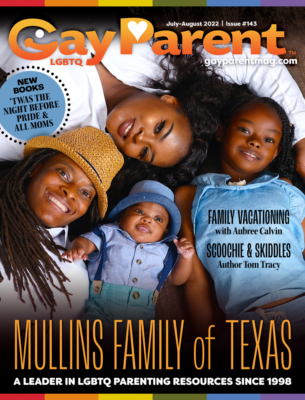 Our Current Digital Issue Free to All (May take a few seconds to load)
Click here to get your free copy
---

Our Current Gay Parent Magazine-NY Annual Free to All
Click here to get your free copy
Mailing List
Join our mailing list for special announcements!
We respect your privacy.
Gay Parent Magazine
Sponsored Content:
The École Now Serves Students from Pre-Nursery through High School!
Since the opening of its Pre-Nursery program in September 2021, The École welcomes two-year-olds to its unique French-American bilingual program. And just one year later, The École has joined forces with Léman Manhattan Preparatory School to create a new high school track!
Read more>
Game On: Five Unique Benefits to Different Types of Play in Your Child's Development
We live in an increasingly diverse world where our children encounter people of varying races, cultures, and abilities. As parents, teaching our children about diversity and inclusion is paramount as we focus on raising tolerant, accepting, and empathetic children.
How do you guide your child to grow to be a diverse, inclusive, and compassionate individual? Here are three great ways where you, as a parent, can teach your child to have a positive attitude and approach.
Read more>
Students Thrive at Green Ivy International Schools
Green Ivy International Schools provide future-facing programs that prioritize sustainability, innovation, and world citizenship across our curriculum. Through multilingualism (Spanish and Mandarin) and cultural agility, Green Ivy places a great emphasis on connecting academics to real world applications that can enhance the environment and the lives of others. Because our schools are located in the original New York City (a block from Wall Street, a short walk from the Hudson River, Brooklyn Bridge, Chinatown), we have the vast resources of New York City and its outer boroughs filled with culture, language, arts, universities, international organizations, museums, and institutions willing to open their doors to our students.
Read more>
Shu Ren: Chinese and English Immersion Program
"One of our co-founders originally saw a need as a young mother in the Bay Area, back in 2008," said Deron Marvin, Co-Head of Shu Ren. "As a daughter of a Kiwi father and Chinese mother, Dr. Jie Moore wanted her daughter to grow, learn, and thrive in an international community filled with a vibrant culture, traditions, and experiences. When she couldn't find a school that provided this approach, she founded one – utilizing expansive and inclusive education programs to embrace and support families from unique cultural backgrounds".
Read more>
Summer is right around the corner, how will your camper spend it?
Since 1887, Trail Blazers has been where young people connect to nature, to themselves, and to each other. This summer, after spending 2020 and 2021 creating safe, fun, and screen-free experiences filled with learning and memories, Trail Blazers invites your camper to join in! There's an outdoor experience for all ages. Registration is ALREADY open—secure your camper's spot today.
Read more>
Getting Your Child Back to Sleep
Having a good night's sleep is vital for a child's well-being. But getting your child to sleep is not always the easiest task. With the stressors of the past almost two years, there has also been an increase in the incidence and severity of hyperactivity, insomnia, anxiety, and depression in children, especially adolescents. We recently sat down with Prabhavathi Gummalla, MD, FAAP, pediatric pulmonology, and sleep medicine specialist at Valley's Pediatric Sleep Disorders and Apnea Center to discuss how to get your child back to sleep.
Read more >
82nd Street Academics
Are you searching for an inclusive, play-based learning center for your 2/3/4-year-old child? Have you already made some visits and felt anxious about the welcome? Were you discouraged that the program felt more like expensive daycare? I'm Ronald Tompkins and I direct 82nd Street Academics as a gay Anglo and my husband is Vietnamese American. I know the uncomfortable feeling of being greeted by someone who — is uncomfortable. If we can't make your family and your child feel comfortable in the 1st month of attendance, we'll return your tuition!
Read more >
Reproductive Science Center of New Jersey
At Reproductive Science Center of New Jersey (RSCNJ), we go beyond helping infertile couples. We proudly offer LGBTQIA+ family building services. Lesbian, gay, bisexual, transgender, questioning, intersex, and asexual individuals and couples who dream of having a family can often do so with our assisted reproductive technologies.
Read more >
For Over 30 Years, Family Building Has Been Our Family Business
Cryobio is committed to getting it right when it comes to serving members of the LGBTQ+ community. This past November, we hosted Equitas Health Institute at our main offices in Columbus, Ohio. They delivered a training session to us on providing culturally humble and competent care so we can better serve the community. The knowledge we gained in one afternoon was beyond what we could have imagined. Our goal at Cryobio is and has always been, to provide members of the LGBTQ+ community with a welcoming and safe space during their journey to parenthood. This training provided insight into the harsh realities that many members of the LGBTQ+ community face on their path to becoming parents. The individuals who led our training were incredible and honest in sharing their own personal stories, as well as other stories of people who were treated unacceptably by physicians, nurses, lab techs, or receptionists when they walked through the doors of a clinical practice looking for care. The actions and behaviors in these stories were heartbreaking to hear and made us even more determined to make sure we are providing the best care to the LGBTQ+ community.
Read more >