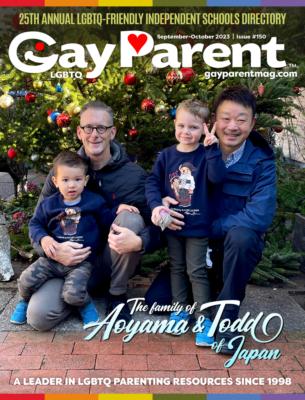 Our Current Digital Issue Free to All (May take a few seconds to load)
Click here to get your free copy
---

Our Current Gay Parent Magazine-NY Annual Free to All
Click here to get your free copy
Mailing List
Join our mailing list for special announcements!
We respect your privacy.
Gay Parent Magazine
Sponsored Content:
An Education with a World View
Bolles students don't only receive a world-class education – they learn how to become savvy global citizens as they pursue their passions in an unrivaled academic environment designed to develop tomorrow's leaders.
Read more>
The Otherwoods
I've always been drawn to spooky stories. Scary books allowed me to deal with some of the darker realities of life, some of the negative feelings and pain . . . but in a really cool way. It created a distance, as I experienced all the feelings and frights of the protagonist from the safety of my own bedroom. It was also an escape between pages, whether it be just to experience a new point of view or to enter a wooded spirit realm full of monsters. But for someone so drawn to the creepy and crawly, I've always been a big scaredy-cat.
Read more>
Avenues The World School
The New York campus of Avenues The World School is an independent school located in the Chelsea neighborhood of Manhattan, adjacent to the High Line park, serving toddler–12th grade. Since opening in 2012, Avenues New York has grown its student body from 740 students to more than 1,900 in 2023. Students from their first seven graduating classes are studying at many of the finest educational institutions in the world and are well on their way to becoming, in the words of their mission statement, "architects of lives that transcend the ordinary."
Read more>
The École Now Serves Students from Pre-Nursery through High School!
Since the opening of its Pre-Nursery program in September 2021, The École welcomes two-year-olds to its unique French-American bilingual program. And just one year later, The École has joined forces with Léman Manhattan Preparatory School to create a new high school track!
Read more>
The IDEAL School of Manhattan–NYC'S only K-12+ Independent Inclusion School–Now in the Financial District
The IDEAL School of Manhattan is New York's only K-12+ independent inclusion school.
Our mission is to affirm and accept the full identities of all people while inspiring academic excellence, creative leadership, and a desire to build a more just and equitable world. IDEAL students will begin the 2023-24 school year at 5 Hanover Square in the Financial District, on five private floors built especially for our school and designed as a model of accessibility for our diverse student body.
Read more>
Fusion Academy
Is school a safe space for my kid? Will they be accepted? Will they have friends? Will they feel loved? For far too many kids these days, their answer to all of these is 'no'. Their school environment is not a safe or loving place. Because of that, they lose their motivation. Because of that, their academics suffer.
Read more>
Shu Ren: Chinese and English Immersion Program
"One of our co-founders originally saw a need as a young mother in the Bay Area, back in 2008," said Deron Marvin, Co-Head of Shu Ren. "As a daughter of a Kiwi father and Chinese mother, Dr. Jie Moore wanted her daughter to grow, learn, and thrive in an international community filled with a vibrant culture, traditions, and experiences. When she couldn't find a school that provided this approach, she founded one – utilizing expansive and inclusive education programs to embrace and support families from unique cultural backgrounds."
Students Thrive at Green Ivy International Schools
Green Ivy International Schools provide future-facing programs that prioritize sustainability, innovation, and world citizenship across our curriculum. Through multilingualism (Spanish and Mandarin) and cultural agility, Green Ivy places a great emphasis on connecting academics to real world applications that can enhance the environment and the lives of others. Because our schools are located in the original New York City (a block from Wall Street, a short walk from the Hudson River, Brooklyn Bridge, Chinatown), we have the vast resources of New York City and its outer boroughs filled with culture, language, arts, universities, international organizations, museums, and institutions willing to open their doors to our students.
Connected: Parenting Tips to Help Strengthen Your Relationship with Your Child
Given that parenting is the toughest job on earth — and we live in a world with incessant demands on our time and attention, after being separated all day — the only way to keep a strong bond with our children is to build in daily habits of connection. Here are five examples that won't add time to your day yet does add connection.
Valley Medical Group Pediatric Primary Care in Montvale, New Jersey
You and your child serve as the leaders of your healthcare team. A pediatrician serves as your key navigator, guiding you throughout a child's healthcare journey. They will support your child's well-being, monitor growth and development, and call upon the expertise of sub-specialists if supplemental care is needed.
Read more >
Reproductive Science Center of New Jersey
At Reproductive Science Center of New Jersey (RSCNJ), we go beyond helping infertile couples. We proudly offer LGBTQIA+ family building services. Lesbian, gay, bisexual, transgender, questioning, intersex, and asexual individuals and couples who dream of having a family can often do so with our assisted reproductive technologies.
Read more >
For Over 30 Years, Family Building Has Been Our Family Business
Cryobio is committed to getting it right when it comes to serving members of the LGBTQ+ community. This past November, we hosted Equitas Health Institute at our main offices in Columbus, Ohio. They delivered a training session to us on providing culturally humble and competent care so we can better serve the community. The knowledge we gained in one afternoon was beyond what we could have imagined. Our goal at Cryobio is and has always been, to provide members of the LGBTQ+ community with a welcoming and safe space during their journey to parenthood. This training provided insight into the harsh realities that many members of the LGBTQ+ community face on their path to becoming parents. The individuals who led our training were incredible and honest in sharing their own personal stories, as well as other stories of people who were treated unacceptably by physicians, nurses, lab techs, or receptionists when they walked through the doors of a clinical practice looking for care. The actions and behaviors in these stories were heartbreaking to hear and made us even more determined to make sure we are providing the best care to the LGBTQ+ community.
Read more >