ASSISTED REPRODUCTION
AND SURROGACY RESOURCES
The following are descriptions of gay-friendly assisted reproductive businesses that can assist you with surrogacy, sperm donor, insemination, fertility, IVF (In-vitro fertilization), pregnancy and child birth.
---
ALL FAMILIES SURROGACY, LLC
https://www.allfamiliessurrogacy.com/
All Families Surrogacy, LLC, is a compassionate and thriving gestational surrogacy agency, and recipient of the 2017 Better Business Bureau's Business of the Year Award. Our team has a passion for helping to create loving families of all kinds.
We are honored to work with amazing surrogates throughout the United States, and with wonderful intended parents nationwide and abroad. Our commitment to each surrogate and intended parent is that we will be there to support and guide you each and every step of the way. Visit us online at allfamiliessurrogacy.com or call toll free at 877-769-9985.
---
ALLISON-MCCLOSKEY ESCROW COMPANY
https://www.allisonmccloskeyescrow.com
Allison-McCloskey Escrow Company is an independent company that has been in business since 1946 and currently holds the oldest escrow license in the State of California.  Allison-McCloskey Escrow Company provides fund management services for Surrogacy Agencies, Intended parents working independently, Attorneys, independent consultants, and Physicians engaged in the surrogacy process or egg donation.
Allison-McCloskey Escrow Company is committed to providing accurate and dependable fund management with over 22 years of experience assisting clients all over the world.  Our primary goal is to safeguard and distribute clients' funds as directed in a timely manner.  We pride ourselves with providing all of our clients with personal service at a reasonable cost.
Allison-McCloskey Escrow Company is dedicated to providing excellent service by maintaining regular communication with all parties.
Be sure to choose Allison-McCloskey Escrow Company, an independent licensed escrow provider who is 100% neutral, and whose sole business is providing escrow services.  We are licensed by the Department of Financial Protection and Innovation (DFPI) of the State of California, who requires adherence to the most stringent standards in the industry, including regular operational procedures audits and background investigations with the Department of Justice for all employees.
---
BEVERLY HILLS EGG DONATION
310-279-5272
www.bhed.com
Beverly Hills Egg Donation is committed to helping members of the LGBT community become parents through egg donation.
Since its inception in 2007, LGBT Egg Donation has been committed to helping members of the gay, lesbian, bisexual, and transgender community realize their dreams of having a family. With the help and support of our compassionate, knowledgeable team, hundreds of LGBT people have become parents.
Our dedication has also extended beyond our own clients and into the LGBT community at large through our numerous sponsorships of and participation in LGBT and alternative family organizations around the globe.
As an intended parent or egg donor working with LGBT Egg Donation, you can be assured of our commitment to:
• Provide a positive and nurturing experience for all of our clients and donors
• Deliver thorough and timely information
• Treat each donor and intended parent with respect, dignity, and compassion
• Actively participate in activities benefiting the LGBT community
• Support and promote equality for all
LGBT Donation offers anonymous, semi-open, and fully open egg donation arrangements, giving intended parents and egg donors the opportunity to decide how much interaction they are comfortable having with each other during the donation process and beyond.
Our available egg donors are highly diverse, and include prior egg donors, academic achievers, and donors with proven fertility. All Donors have been thoroughly screened and educated regarding the process of egg donation. We follow the FDA, and American Society of Reproductive Medicine and Society for Assisted Reproductive Technology guidelines for egg donation.
---
THE CENTER FOR ADVANCED REPRODUCTIVE SERVICES
Offices in Connecticut and Western Massachusetts
www.uconnfertility.com
We know that there are many different paths to parenthood. We know because we help build families every day. We also know that the fertility options and issues facing gays and lesbians and transgender individuals are different from others wishing to become parents. There are legal, financial and other obstacles that need special attention and knowledge to overcome. Various medical procedures also have benefits and risks that need to be understood. That's why we offer the very best in comprehensive and personalized care.
Fertility options for third party reproduction have grown over the years. We now have choices that include not only adopted children, but genetically related children, as well. Biological females, depending on their health and age, can use advanced technologies such as egg or embryo freezing, sperm donation with Intrauterine Insemination (IUI), In Vitro Fertilization (IVF), shared conception, and egg donation to achieve a pregnancy. Biological males, depending on their sperm quality and surrogacy options, can use technologies like IVF, egg donation, and gestational carriers. As many LGBTQ individuals and couples do not have an established diagnosis of infertility, pregnancy rates per cycle are generally quite favorable.
In addition to the range of advanced medical technologies we offer, we can also guarantee the highest level of skill and expertise in successfully using them. We are experts in the field of reproductive endocrinology and infertility and have been nationally recognized for our success, compassion and commitment.
---
THE CENTER FOR REPRODUCTIVE MEDICINE AND FERTILITY
Dr. Louis R. Manara
856-767-0009
www.louismanara.com
Dr. Manara is board certified in Reproductive Endocrinology and Infertility with more than 20 years of experience in this area of medicine.
The Center for Reproductive Medicine and Fertility provides highly individualized care in a friendly and supportive environment. Services offered at our center include artificial donor insemination, in-vitro fertilization, egg donation, and gestational carrier care, as well as traditional infertility treatment options such as ovulation induction, management of polycystic ovarian syndrome, and minimally invasive tubal reconstructive surgery. The IVF Laboratory housed at our center functions at the highest level applying the most current and successful laboratory technologies including blastocyst culturing, intra-cytoplasmic sperm injection, laser assisted hatching, and a highly successful embryo freezing program. Our team has accumulated extensive experience in providing highly successful, dignified infertility care for non-traditional families. Achieving a successful pregnancy requires guidance and direction through the complex and confusing world of infertility treatment. You need experienced knowledgeable people who will care for you and educate you as to the best treatment individualized to your age and circumstances. You will need realistic encouragement and support as you progress through evaluation and treatment. You want to enter into a partnership with those providing your care, and you want to be treated with dignity, respect, and honesty. You want to be cared for by our team.
---
CRYOBIO
For over 30 years, family building has been our family business.
Cryobio is committed to getting it right when it comes to diversity, equity, and inclusion. We believe all people deserve to be treated as equals regardless of race, gender identity, sexual orientation, religion, and socioeconomic standing. Our team has been trained on delivering culturally humble and competent care. Anyone coming to us for help will be treated with respect, empathy, and compassion.
There are many ways to form a family, and our mission at Cryobio is to provide care to anyone who needs help either forming a family or preserving their ability to form a family in the future.
Under the direction of our founder and laboratory director, Dr. William C. Baird, PhD, HCLD, our team works tirelessly to provide you with the following services:
• Donor sperm services available throughout the country
• Directed or known donor processing
• Fertility preservation and andrology testing at our andrology laboratory and fertility preservation center, Reproductive Diagnostics
For more information on our donor sperm services and directed donor processing please visit www.cryobio.com
For more information on andrology testing and fertility preservation please visit www.reprodiag.com
We look forward to working with you!
---
CRYOGAM COLORADO, LLC
800-473-9601
www.cryogam.com
For over 30 years CryoGam has offered patient-centered service and expertise both locally and nationally. As a small-scale sperm bank, CryoGam is committed to keeping prices affordable for patients and prides itself in the individualized services offered.
CryoGam provides anonymous donor sperm along with directed donor services, meeting all FDA mandated criteria for infectious disease donor testing. CryoGam is also inspected and licensed by CLIA, the New York State Department of Health, the State of California Department of Health Services, and Maryland Department of Health and Mental Hygiene.
CryoGam offers many FREE SERVICES! There are no account set-up fees! Free photo matching and phone consultations are also available.
Already have sperm, oocytes or embryos cryopreserved? Contact CryoGam for long-term storage pricing. CryoGam specializes in long term storage, shipping and transferring cryopreserved specimens. You will be relieved to find out how easy and stress-free transfers can be.
CryoGam proudly serves the LGBT community. Visit www.cryogam.com to find out more information or call toll-free at 800-473-9601 to speak with one of our helpful and knowledgeable staff members.
Let CryoGam help you on your journey towards family!
---
FAMILY FORMERS
Family Formers is a personalized boutique Surrogacy and Egg Donation agency that was formed by professionals who have a deep understanding of the complexities of the fertility process.
A decade ago, Family Formers was created because of our own personal challenges with IVF clinics, egg donor agencies, and surrogacy companies. In defining what our company's mission and goals were to be, it was clear: WE HAD TO MAKE A DIFFERENCE.
In addition to our specialized Surrogacy and Donor programs we are "Parent Advocates." We help to educate and empower Intended Parents by providing then with valuable information. This enables parents to make intelligent financial and personal decisions based on complete transparency.
We want our Intended Parents to feel 100% confident going into their fertility journey. Over the past several years, we have been honored to have helped hundreds of Intended Parents fulfill their dreams of having babies. We look forward to the special privilege of working with and beside you throughout this incredible journey to parenthood.
---

FAMILY SOURCE CONSULTANTS
Since opening our doors in 2007, our Chicago-based gestational surrogacy agency has helped thousands of hopeful parents to start or build their families. With over 1200 babies born, our success rate for surrogacy now stands at an impressive 95%, meaning nearly all Family Source's Intended Parents (IPs) bring home a baby through surrogacy. And with three offices in the US and clients in over 30 countries, we are now regarded as one of the world's leading third-party reproduction agencies.
Inclusiveness is central to the FSC philosophy. We enthusiastically welcome everyone who dreams of becoming a parent but cannot produce children themselves. Individuals and couples of all races, sexual orientations, and religious and ethnic backgrounds are among our intended parents.
The relationship between staff and intended parents certainly plays a major role in our success. Over 75% of our staff have had personal experience with surrogacy, egg donation, or IVF, so hopeful parents can be sure they are working with someone who understands their situation on an intimate level. Support is available for Intended Parents at every step, from being matched to a surrogate or donor through professional assistance with legal matters and medical procedures.
The fact that more than 98% of clients move forward after their first match meeting reflects the thoughtful care that goes into this delicate and personal process.
"It's our mission to alleviate the pressures all parties are facing and to help make this experience positive and fulfilling for everyone involved," Staci Swiderski, Founder and CEO of Family Source Consultants says. "We work closely with every client to ensure arrangements are customized to meet the specific needs of prospective parents, surrogates, and egg donors."
---
GAGO CENTER FOR FERTILITY/
GAGO IVF
https://www.gagofertility.com/
The Gago Center for Fertility/Gago IVF helps women and couples throughout Michigan and the Midwest realize their dreams of starting a family. Launched in 2007 by Laura April Gago, MD, the practice has become a valuable asset in the community for couples struggling to conceive. Gago Center for Fertility is equipped with state-of-the-art technology and the most advanced fertility treatments available. Their services include Invitro fertilization (IVF) , Pre-implantation Genetic Testing (PGT), Intrauterine Insemination, Donor Eggs, Donor Sperm, Ovulation Induction, Lifestyle and sexual counseling.
---

GIAMPOLO LAW GROUP
info@giampololaw.com
www.giampololaw.com
Angela, the founder of Giampolo Law Group, is an LGBTQ+ attorney dedicated to serving the LGBTQ+ community, and those who love us, for all of their legal needs.  One of our most fundamental legal needs as LGBTQ+ folks is assistance in creating and protecting our families. Look no further, Giampolo Law Group is the go-to law firm for our community. We are driven, focused and passionate in serving the LGBTQ+ community and being a valuable resource to everyone.
Whether you're adopting a child, drafting a premarital agreement, updating your estate plan, negotiating a parenting plan or deciding whether to get married, you deserve an empathetic attorney by your side, and Angela is just that.
Angela helps you cut through the overwhelming noise involved in navigating family and estate planning.
Angela D. Giampolo, principal of Giampolo Law Group, is licensed in Pennsylvania, New Jersey, and Arizona and specializes in LGBT law, business law, real estate law, and civil rights. Her website is www.giampololaw.com and you can contact her at info@giampololaw.com. 
---
THE LAW OFFICE OF ERIN C. O'KANE, ESQ.
Attorney O'Kane Allen has been exposed to the field of third-party reproduction and family formation for most of her life due to her mother's career in this area. She is very familiar with the struggles involved when facing infertility.
Attorney O'Kane Allen began working as an Associate Attorney in this field in 2010 and opened her own law firm practicing Third Party Reproduction and Family Formation law in 2011. She practices exclusively in this area.
The Law Office of Erin C. O'Kane, Esq. practices exclusively in the areas of Third Party Reproduction and Family Formation. We have experience in drafting, negotiating, and finalizing Surrogacy Agreements, Egg Donation Agreements, Sperm Donation Agreements and Embryo Donation Agreements. We also draft and file the documents necessary for the Establishment of Parental Rights.
---

The Law Office of Jennifer P. Maas, PLLC is a family formation law firm dedicated to helping LGBTQ+ New Yorkers looking to form, expand and secure their families.
The law firm works with parents to secure their parental rights through Judgments of Parentage or Orders of Second or Step-Parent Adoption, having obtained Parentage Orders for many of the firm's lesbian and non-binary clients throughout New York City, Long Island and beyond. The firm works with LGBTQ+ clients to draft Embryo, Egg or Sperm Donation Agreements when working with known donors, and reviews such Agreements on behalf of donors themselves. Additionally, the law firm is operated by an attorney who formed her family using surrogacy, and proudly represents intended parents seeking to build their families through the use of gestational surrogacy.
With locations in Manhattan and Long Island to conveniently meet clients when needed, the Law Firm takes a modern and compassionate approach to its practice by using technology and flexible hours to accommodate clients' busy schedules. We pride ourselves on the limited need for in-person meetings, while still providing comprehensive legal services and individualized attention.
Visit our website for more information or contact us for a consultation!
---
Pacific In Vitro Fertilization Institute
866-944-0440
www.pacificinvitro.com
Pacific In Vitro Fertilization Institute is Hawaii's first IVF clinic with some of the most experienced IVF doctors in Hawaii. Since 1985, we've quietly built a history of successful pregnancies for people who previously had no hope of bearing children on their own.
Today, Pacific In Vitro is led by a team of 4 board certified physicians with decades of experience in IVF, reproductive endocrinology, fertility and OB/GYN. Our team also consists of an on-site Ph.D. embryologist who is a board certified laboratory director. Together, the physicians, laboratory director, nurses, office and lab staff work closely together to ensure the highest level of individualized care for you.
---
REPRODUCTIVE MEDICINE ASSOCIATES OF MICHIGAN
(248) 619-3100
www.rmami.com
Reproductive Medicine Associates of Michigan's (RMA of Michigan) is a fertility clinic in Southeast Michigan led by the physician team of Brad Miller, M.D., Lynda Wolf, M.D. and Karen Wheeler, M.D. We provide personalized fertility care in a supportive and compassionate setting. RMA of Michigan is a proud supporter of the LGBTQ community and have helped many within that community achieve their dream of having a family.
RMA of Michigan specializes in the following services:
• In Vitro Fertilization (IVF)
• Intrauterine Insemination (IUI)
• 
IVF with Intracytoplasmic Sperm Injection (ICSI)
• Donor Egg
• 
Egg Freezing
• Gestational Carrier Services
• Preimplantation Genetic Diagnosis (PGD)
• Preimplantation Genetic Diagnosis of Aneuploidies (PGT-A)
• Surgery
RMA of Michigan has the most advanced and comprehensive infertility treatment options available. Call us to schedule an appointment today at (248) 619-3100 or visit our website www.rmami.com.
---

REPRODUCTIVE SCIENCE CENTER OF NEW JERSEY
732-918-2500
www.fertilitynj.com
The Reproductive Science Center of New Jersey is a leading provider of advanced reproductive technologies. This state-of-the-art facility offers comprehensive care and all of the latest infertility treatments, ranging from in vitro fertilization and artificial insemination to drug therapies and tubal reversal. The physicians at RSCNJ have specialty training in both male and female infertility, and are widely recognized for their expertise and success in assisting reproduction. Our experienced staff fully understands the difficult emotional and medical challenges that confront infertility patients. They strive to make patients feel calm, comfortable, and confident throughout their course of treatment.
The Reproductive Science Center of New Jersey seeks to meet the special needs of each couple experiencing fertility problems. Our patients are made to feel like guests in our home, and the entire RSC staff takes part in the emotional journey. We have expanded our office hours to meet the needs of your busy schedule by offering convenient evening and weekend office hours. Our center offers free phone consultations and free second opinions. We will go to any extent to answer all your questions, allay all fears, share with you the joys and disappointments of the infertility process, and help identify the best treatment to help you get pregnant. If you're ready to start on the road to parenthood, we can help.
---

SeedTrust Escrow, LLC
https://www.seedtrustescrow.com/
SeedTrust is the leading technology-enabled escrow fund manager for egg donation and surrogacy. At SeedTrust, we endeavor to help families grow and reduce the financial stress of the escrow process by providing secure, transparent, affordable, and reliable escrow services to intended parents, surrogates and egg donors throughout their collaborative reproductive arrangements, allowing parents and surrogates to focus on what matters most — building families.
The SeedTrust team provides expertise in managing escrow funds with specialized knowledge of the surrogacy process. Our confidential and easy-to-use online portal ensures that all payments are managed and distributed securely and on schedule, with communication and support throughout the process.
Our simple, secure online platform is supported by best-in-class technology that creates a simple, transparent process—providing the intended parents, egg donor, surrogate, and the agency immediate access to their entire case file online, as well as real-time updates on account balances, payments, and disbursement requests.
SeedTrust escrow funds are bonded, insured, and securely held in an attorney-managed trust account. Disbursement requests are processed within 24 hours, payments are direct-deposited, and notifications are sent instantly via email.
SeedTrust inspires trust and peace of mind—allowing everyone involved to focus on their family-building journey. Schedule a chat with one of our ART Escrow Consultants today!
---

TR LAW OFFICES LLC
Let me help you through the legal process of building your family through surrogacy and egg, embryo, or sperm donation. Over the years there have been dramatic changes in the field of fertility care, and I have been privileged to have been a small part of those changes through advocacy and my work with countless couples and individuals of various backgrounds. My practice caters to your needs by drafting and negotiating contracts for surrogacy, egg donation, sperm donation, and embryo donation that fit your individual goals and comfort. And of course, I ensure that the proper pre-birth filings are complete.
For over two decades, I've been helping people from all walks of life bring the joy of parenthood into their lives.
Contact Teri Robins at 847-682-0463 or teri@trlawoffices.com to talk about how I can help you.
Licensed to practice in Illinois, Ohio, and Massachusetts.
---
TRACHMAN LAW CENTER, LLC
Trachman Law Center's attorneys are dedicated to protecting LGBTQ+ growing families as well as the donors and surrogates assisting them. We have worked with individuals and couples of all backgrounds in every step of the surrogacy and egg, sperm, and embryo donation process. We also provide clients with a full suite of customizable estate planning services to protect the long-term financial health of families.
Our attorneys have received recognition for their commitment to the LGBTQ+ community including 2015 Entrepreneur of the Year by the Colorado LGBTQ Chamber of Commerce, 2017 Legal Program Volunteer of the Year by The Center on Colfax, and 2020 Ally of the Year by the Colorado LGBT Bar Association.
Trachman Law Center attorneys are licensed in California, Colorado, Montana, New Jersey, New Mexico, and New York.
Book a free consultation through our website (trachmanlawcenter.com) or give us a call at 303-243-5014. We are here to help.
---

UNIVERSITY REPRODUCTIVE ASSOCIATES
Everyday miracles really do happen, and here at University Reproductive Associates, we've helped thousands of couples become loving families. From the moment you call us until the time you leave, you will receive the finest personalized, compassionate, and confidential reproductive care. Our physicians are award winning, and leaders in their field. Our multidisciplinary team of medical experts is committed to providing you with the best fertility care.
As one of the most experienced infertility practices in the United States, University Reproductive Associates delivers the most comprehensive expertise and clinical care to help couples become a family. Our physicians are faculty members in Obstetrics, Gynecology and Women's Health at Rutgers – New Jersey Medical School. We also participate in cutting edge IVF/Infertility research projects funded by both industry and the National Institutes of Health (NIH), which allows our patients access to the most up-to-date care possible.
University Reproductive Associates utilizes the most advanced state-of-the art diagnostic testing procedures and treatment options to assist our patients in reaching their dream of having a healthy baby. Our team of expert physicians, laboratory specialists, nurses and staff delivers care 365 days a year, allowing you a greater chance for success.
https://global.befertility.com/serve/en
Making parenthood possible for everyone has been our constant mission.
Uterus International Medical works to help members of the LGBT community start families of their own. We understand and respect everyone's autonomy, and hope that people can live in the way they like regardless of gender, sexual orientation, identity, etc.
Uterus International Medical was founded by four specialists from the United States, Japan, Thailand and China. UIM holds the medical license of the United States, Thailand and China, and the qualification of Japanese medical tourism reception. We have been providing customized access to IVF medical services for more than 10 years.
Our team provides you with the following services:
In Vitro Fertilization (IVF)
Surrogacy Service
Donor Egg
Donor Sperm
Egg Freezing
Transport of Genetic Material
For more services, please visit our online website.
We are available 24/7 to meet your needs. Look forward to cooperating with you!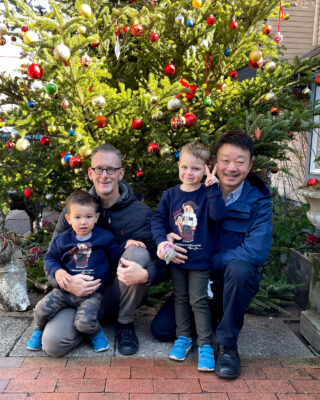 ---
THE VALLEY HOSPITAL FERTILITY CENTER
www.ValleyIVF.com
201-634-5400
At The Valley Hospital Fertility Center, we feel privileged to help people on their path to parenthood, including our friends and neighbors in the LGBT community. Here, gay and lesbian individuals and couples can expect compassionate, respectful fertility care from experts who understand both the joys and complexities of building a family.
Intended parents can depend on the Fertility Center for help in exploring possible fertility avenues, including third-party reproduction services (donor sperm, donor egg and/or gestational carrier), used in conjunction with in vitro fertilization or intrauterine insemination.
We know that the road to building a family isn't always an easy one. Our staff is always available to help make your experience less stressful—whether you need clinical information about your chosen service, financial answers from our billing coordinator or simply a reassuring shoulder to lean on.
We're so happy to partner with you on the journey to parenthood—and we'll be with you every step of the way.
---
VISHNICK MCGOVERN MILIZIO LLP
Comprehensive Legal Service Tailored to All Your Personal and Business Needs
For over 50 years, Vishnick McGovern Milizio LLP has been providing dedicated and compassionate legal support for all people.
One of the first law firms in the U.S. to establish an LGBTQ Representation practice, we continue to advocate tirelessly on behalf of our clients.
The legal landscape of LGBTQ rights is constantly changing. Our seasoned attorneys are at the forefront of both the state and federal levels, with a strong track record in small personal matters as well as landmark cases.
Whichever your case, we provide dedicated, passionate, and resourceful representation strategically tailored to all your personal and business needs.
Our Services
• Workplace discrimination and harassment
• Spousal and domestic partner rights
• Prenuptial and post-nuptial agreements
• Separation, divorce, and custody
• Surrogacy, adoption, and assisted reproduction
• Estate planning
• Estate distribution and inheritance
• Customized trusts and probate alternatives
• Healthcare proxies, living wills, and powers of attorney
• Fiduciary appointments
• Elder law
• Name changes and gender marker changes
• Real estate transactions and litigation
• Co-owner agreements
• Pro bono legal training for organizations and groups