Students Thrive at Green Ivy International Schools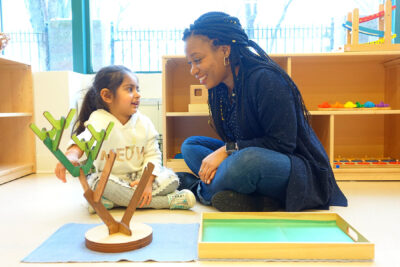 Green Ivy International Schools provide future-facing programs that prioritize sustainability, innovation, and world citizenship across our curriculum. Through multilingualism (Spanish and Mandarin) and cultural agility, Green Ivy places a great emphasis on connecting academics to real world applications that can enhance the environment and the lives of others. Because our schools are located in the original New York City (a block from Wall Street, a short walk from the Hudson River, Brooklyn Bridge, Chinatown), we have the vast resources of New York City and its outer boroughs filled with culture, language, arts, universities, international organizations, museums, and institutions willing to open their doors to our students.
We maintain a fervent belief that learners should have a voice in their own learning, reflect on their growth and increasingly make thoughtful decisions about their direction and priorities. We call this Student Agency, and it is fundamental to our school culture. At every step, we encourage our students to become active learners by posing questions, problems or scenarios—rather than simply presenting established facts or portraying a smooth path to knowledge. As a result, our students learn to take mindful action for equity and the environment, making a positive impact on the world.
The following eight "pillars" of belief on which everything centers at our schools, support our approach and enhance our ability to provide groundbreaking education in New York City – offering the best in language immersion, design technology, the arts, and innovation so that our students thrive.
1: EXPERIENTIAL LEARNING
We help children connect with their surroundings to ignite the child's natural desire to learn with an environment that is authentic, nurturing, warm and ultimately transformative.
2: COMMUNITY
Learning is accelerated when students can interact directly with the broader community to understand the relevance of what they are learning. Green Ivy draws families into the learning process since they are the child's most immediate community.
3: COLLABORATION
Through collaboration, students develop a feeling of connectedness, resulting in deeper, more memorable learning experiences. They learn to acknowledge, respect and advocate each other's point of view, value one another's contribution and recognize there is power in interdependency.
4: GLOBAL STEWARDSHIP
We promote an environment that teaches children to consider their impact on others, think globally and contribute to larger solutions. This awareness and respect for other cultures is enhanced by learning new languages, through which children learn how to listen and communicate with others in a meaningful way.
5: EXPLORATION
Curiosity leads children to look for what lies beyond the predictable. Exploration involves risk and uncertainty, and we strive to create a learning environment where this exploration is encouraged and safe.
6: PROVEN MODELS
Several important learning models have been developed, refined and proven by educators around the world. Green Ivy embraces these models and enhances them with our own unique delivery. The Montessori Method and the International Baccalaureate represent world-recognized best practices in educational development.
7: HUMAN CONNECTION
A deeper quality of learning, self-discovery and stewardship develops when there is a genuine, personal connection and real world understanding of the experiences of others.
8: INSPIRED EDUCATORS
Green Ivy is committed to only hiring those with a passion for helping others learn, whose beliefs and teaching styles fit into our educational philosophy to create an exploration-based, engaged learning experience.
Green Ivy International Schools offer two campus locations.
Pine Street School, located at 25 Pine Street in the Financial District, is a fully accredited International Baccalaureate World School offering the Primary Years Program from Nursery (1yo) through 8th Grade with Spanish and Mandarin language tracks. Using highly respected international curriculums and the latest educational research, Pine Street School delivers a rigorous, inquiry-based approach to learning, which prioritizes student agency, technological fluency, and a developed global perspective.
Battery Park Montessori, located at 21 South End Avenue in Battery Park City, is New York's only trilingual Montessori school, offering Spanish and Mandarin language exposure. Our Montessori-trained teachers nurture each child's social, emotional, cognitive, academic, and physical needs, fostering their independence, natural curiosity, and problem-solving abilities. Partnered with Learning Beautiful's hands-on, tactile, and age-appropriate materials, students are introduced to STEM and coding without ever touching a computer.
Learn more about this uniquely diverse and challenging international curriculum at PineStreetSchool.com and BatteryParkMontessori.com.